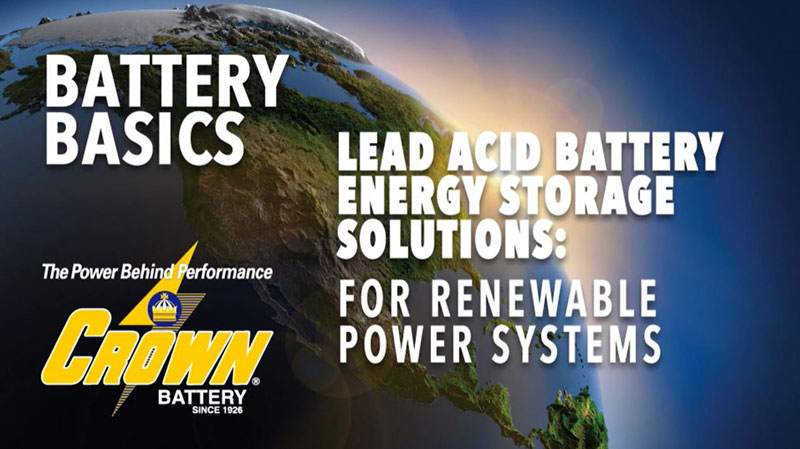 Lead Acid Battery Energy Storage Solutions for Renewable Power Systems
You've decided to invest in a renewable power system ‒ and whether you're going entirely off-grid or planning a grid-connected system with backup power, lead acid battery energy storage from Crown is a prime solution for delivering the power you'll need once the wind stops blowing or the sun goes down. And our new Battery Basics video webinar series is designed to help you get the most from your energy storage array investment, taking the guesswork out of proper set up, routine maintenance and more ‒ quickly, easily and efficiently.
The first, just-released set of videos in the series covers the following:
Proper System Set Up: Learn the first steps required to optimize the life of your battery bank once it is installed.
Float Set Up Confirmation: This video explains how to confirm the settings you programmed during system set up are functioning correctly and your battery bank is being returned to full charge at the end of each charge cycle.
Equalization Charge Protocol: This video will familiarize you with this important recurring procedure, including timing and considerations which may require periodic adjustments to your system charge controller settings.
Watering: Learn how and when to inspect the batteries in your system array to determine if they need water added, how to fill them and which type of water to use.
Use these easy-to-follow videos as a handy resource to get your renewable energy storage system set up and keep it performing at its best.
Follow us on social media or check back regularly to find out when subsequent webinar sets in this Battery Basics series are released.