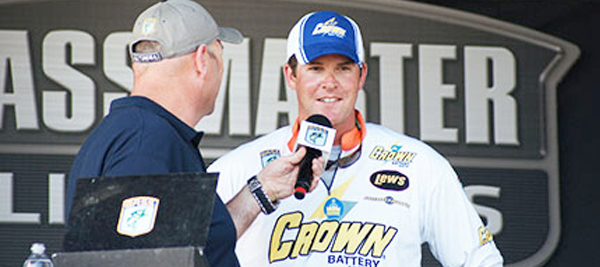 Michael Simonton became a professional fisherman after a career as a special education teacher. Over the last 15 years, he's continued to use Crown Battery for its superior design and quality. Crown Battery is proud sponsor of his ultimate success. Learn more about Michael Simonton professional fisherman journey to the top and why he chose Crown Battery to be a part of it.
Why Crown Battery?
"I've been lucky enough to have Crown Battery on my side and powering my boat for the past 15 years, from early competitions all the way to the Elite Series. Crown is as meticulous about design and manufacturing as I am about picking bait and outfitting my boat, and they make all their lead-acid batteries in my hometown, Fremont, Ohio."
When did you know you wanted to be a fisherman?
"I caught the fishing bug when I was in third grade. It all started when my mom pulled me out of class and told me I had a doctor's appointment, then took me fishing and got a dog instead. By the time I saw a fishing TV show a year later, I knew I wanted to become a fisherman."
"After that, I fished whenever I could. And since my second passion is teaching children, I went to college to study special education. There's nothing more rewarding than getting kids excited about learning and helping them grow. For eight years, I taught during the school year and fished from the day vacation began until the last day of summer."
"When I'm fishing, I know that this is exactly what I want to do with my life. It's the best feeling in the world knowing that you've chased your childhood dream and made it come true."
What was your biggest challenge when you became a professional fisherman ?
"Everything changed when I qualified for the 2011 Elite Series, a competition for the 100 best bass fishers around the world. With help from my sponsors, I became a full-time fisherman. Professional fishing has been a steep learning curve for me, between adjusting to fishing in southern lakes and facing tough competitors. Luckily, I know I can depend on my gear."
"Elite Series fishing is super-competitive and stressful – and it's even harder on batteries. I'm using my trolling motor nonstop for 12-14 hours a day, 150 days a year, in the dead of winter and the peak of summer – a battery torture test. Those conditions kill less-rugged, old-style batteries – and in a tournament, if your trolling motor isn't running, you're dead in the water."
How do you stay competitive?
"I've seen fishermen have to get a lift back in from another competitor after their batteries died. It's humiliating. I've never had to worry about that because I use Crown batteries. They make all their advanced-technology lead-acid batteries at their Fremont, Ohio plant. These batteries go through extra computerized quality control checks and use robotic assembly, the heaviest plates, and more lead."
"Some battery manufacturers show high-tech domestic production facilities but cut corners by using cheaper materials and old-fashioned factories overseas. Some even ship technical support and customer service abroad. I depend on my batteries to run my motor and electronics – and put food on the table – so I can't afford to take chances."
"If Crown wasn't sponsoring me, I'd still purchase from them. After you've had success with something for 15 years, you don't change. I'm thrilled that my Crown batteries will not fail, even when I'm competing against the top 100 bass anglers in the world, and I know they'll be there if I ever have any questions. Crown Battery's advanced technology means longer life and better performance than their competitors – so I can spend less time worrying and more time fishing."
Michael Simonton, Bassmaster Elite Series Tour Pro
Michael Simonton is a professional bass angler from Fremont, Ohio. He has fished exclusively with Crown batteries for 15 years and uses them while competing in the Bassmaster Elite Series Tour. In addition to professional fishing, Michael continues his work with special education children as a substitute teacher. Learn more about how Crown Battery's marine battery lineup.