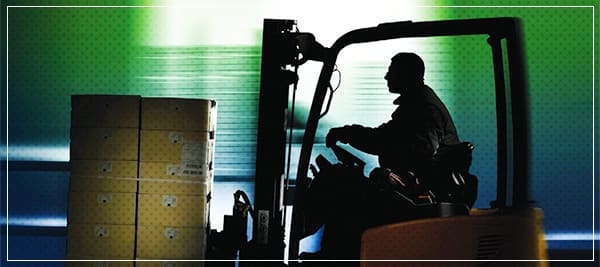 Whether you call it a lift truck, forklift, industrial truck, or material handling equipment, your lift truck requires careful consideration when choosing or replacing the components of it. That's because the components work as puzzle pieces to make a difference in the lift truck's performance as a whole.
You should be paying close attention when it comes to selecting a new or replacement battery for your lift truck and we'll further explain why.
What a Better Battery Does
There are a few important tasks that a heavy duty battery performs, namely running the truck throughout the shift and transporting/lifting heavy materials within a defined space. When you have a high-quality battery in a lift truck, it can perform these functions more efficiently.
Lift Truck Battery Life
A great battery should live a long life. An industrial lift truck battery is an investment, which means that no lift truck owner wants to be replacing it time and again, even with frequent use. It is true that the best quality lift truck batteries may come with a higher price tag, but with increased durability and lifespan, they make up for that initial investment.
Selecting a Lift Truck Battery
Simply buying the same battery that came with the lift truck does not ensure optimal performance. To choose the right industrial lift truck battery for optimal performance, there are a few things to consider. First and foremost, the battery must be compatible with the lift truck itself. One tool for selecting a Crown battery that pairs with your lift truck is Crown's Battery Selector Guide.
Another valuable tool for battery selecting assistance is Power.Match. Crown Battery's Power.Match web application can help users to find a battery that works with a specific make and model of forklift or pallet truck. Otherwise, search using the description of the battery (i.e. 12-85-13) or the lift truck compartment dimensions and required voltage. It is important to check the vehicle specifications, application and type of operation help determine the battery voltage and AH capacity.
It is also important to check the manufacturer of the lift truck for the recommended range of battery weight before installing a new or different battery. In most lift trucks a battery is used as a counterbalance for a carried load. The battery service weight is usually stamped into the steel tray near one of the lifting holes. A battery with the wrong weight can change the center of gravity of the truck and cause it to tip.
Finally, consider the type of battery. Crown's MaxHaul batteries, for instance, tend to have higher capacities and cycle performances than conventional industrial battery types, but they also may cost more, so the choice may come down to the purchaser's priority.
Ultimately, the right lift truck battery for one truck might not be the right choice for another. However, armed with the information of what makes a great battery and how it can improve the performance of a lift truck, anyone can make an educated decision on what to buy.