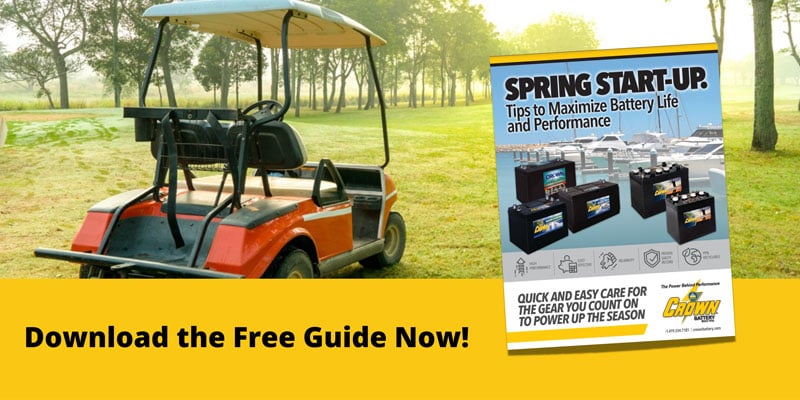 Spring is so close, that you can almost taste that first day on the water or fairway! So it's important to take the time now to make sure your batteries are ready to go and you won't miss a minute of glorious springtime fun ‒ and our Spring Start-Up Guide will quickly and easily show you how to get the most life, performance, and fun out of your batteries.
Don't let a hangup with your battery stop you from enjoying springtime activities with your friends and family! Following our simple tips before turning the key to your golf cart, LSEV, or watercraft for the first time this spring will ensure their FLA or AGM batteries are ready to go when you are:
Get safety pointers and recommendations on personal protective gear for battery maintenance
Learn what to look for during a visual inspection and how to properly and safely clean your battery
Discover which battery type requires refilling and why you should only use distilled water when refilling
Become familiar with battery charging tips and which chargers can optimize battery life
Click the button below to download the Crown Battery Spring Start-Up Guide to prepare your batteries and help them perform at their best when spring fever hits.
Note: the Crown Battery Spring Start-Up Guide is not intended as a replacement for your battery's manual, which offers specific maintenance guidelines and schedules for your exact model, but as a quick general reference guide to help you get the most from your investment.