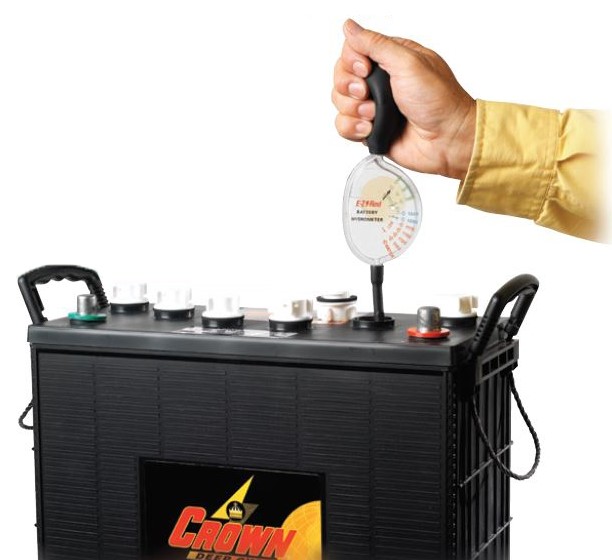 The right battery maintenance can significantly extend your battery life – and save you from costly downtime and premature failure.
Here are some of the keys to safe and effective battery maintenance.
Step 1: Wear PPE:
Anytime you're working with potentially hazardous materials (read: almost any battery), it's important to start by donning the proper safety gear.
Always wear Personal Protective Equipment (PPE) including safety glasses, gloves, and long sleeves.

Disconnect batteries before you inspect or maintain them.
Step 2: Reduce maintenance with proper battery selection
When batteries are engineered better, built to precise specifications, and assembled with higher-quality components – they will last longer and require less maintenance.
Want to know more about what to look for? You'll discover universally applicable tips in John Connell's "How To Choose The Right Battery."
Also, consider low-maintenance batteries such as AGM. These battery chemistries dramatically reduce maintenance requirements and do not need watering.


Step 3: Arm yourself with the right tools
Invest in a few simple, quality tools like a hydrometer, voltmeter, and better personal protective equipment. These tools will make it safe, fast, and easy to maintain your batteries properly.

Download or order maintenance schedule charts from your manufacturer

Schedule routine maintenance in your calendar, so you don't have to remember it.


Step 4: Follow Crown's simple-to-use safety and maintenance guide
Crown Battery's engineers have compressed decades of safety and maintenance strategies into a simple guide called "Safety First."
And it's free – our gift to you for reading.
See Crown Battery's free Safety First guide for in-depth instructions.
Crown's "Safety First" guide explains:
Which 7 factors affect battery life and performance

Little-known keys to successful preventative maintenance

Safety tips for inspection and handling

Detailed diagrams covering battery watering basics

Charging selection and guidelines for optimum performance

How to troubleshoot most battery problems in just 3 steps
Click here to download Crown Battery's "Safety First" maintenance guide.