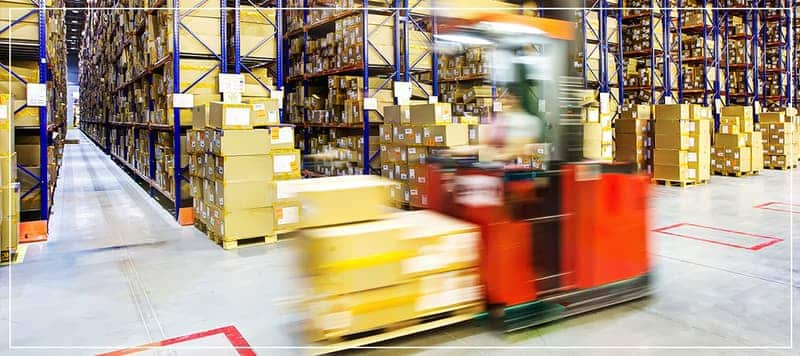 If a forklift keeps your business moving, your forklift needs a battery that will keep it moving. A forklift battery is not only the power source of a forklift but it also provides counterweight to the vehicle which aids in its lifting capacity, as the batteries themselves can weigh from 800 to 6,000 pounds.
Without the battery, business stops. But keeping your batteries powered isn't just about keeping them charged. Because of the weight and construction of these devices, there are certain considerations that should be made when handling, purchasing, and charging them.
Handling:
Because of the weight, no one person should attempt to lift a forklift battery on their own. Using specialized equipment such as a Walkie Pallet Jack is recommended and no matter what method you choose, steel toed boots should always be worn.
Because of the materials present in all batteries, proper clothing should be worn when handling or moving them. In the case of forklift batteries, chemical-resistant protective gear should be worn while moving batteries along with protective eyewear. In case of any contact, an eye and hand washing station should be kept nearby.
When changing the battery, the use of a forklift battery changer is recommended. These are devices that assist in safe removal and installation of forklift batteries. The specifics of these devices can vary and some need to be driven up to the forklift and battery and some are permanent installations and the forklift will need to be driven to the changer.
Purchasing:
When purchasing a new a forklift battery there are some things you should consider. Keep in mind that these batteries are a significant investment so you want to make sure you are doing your homework and getting a battery that will meet your needs.
Before purchasing, ask yourself:
What is the vehicle voltage?

What is the compartment size?

Will you need to purchase a cover?
Chargers for your battery are a separate purchase in most situations. The price will vary depending on the specifics of the charger. Do you need a portable charger that plugs into a standard outlet or one that is wired into a building's electrical system? Think long term in evaluating your needs and use to determine what is best for your application.
Once you've made your purchase, you want to make sure your investment lasts by taking care of it and providing proper maintenance. You can learn more about proper forklift battery maintenance on our blog.
Charging
When it comes to charging your forklift battery, following a set of charging best practices is key to extending the life of your device. It's a significant investment that you want to last. So, when you go to charge your battery, make sure you aren't shortening the life of the battery by doing it wrong. We've covered charging best practices before but just to get you started, remember:
Charge on a routine basis

Watch for sulfation

Do not over-charge

Do not under-charge

Maintain proper fluid levels
Despite its weight and bulk, a forklift battery can be easily damaged if not treated properly. If you know how to handle them, your forklift battery will prove a quality investment and help power your business.