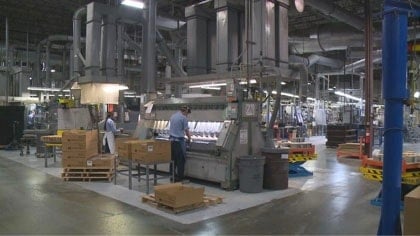 When factories move their business overseas it hurts not only the families that depended on that job, but also the community as whole. At Crown Battery, we've brought jobs to the United States for more than a decade, and we proudly manufacture all our lead batteries here in Fremont, OH, USA. Read how you, and our team, benefit from Made in USA quality.
Why – and how does it benefit you?
At a time when so much is being made overseas – or outsourced to the lowest bidder (goodbye, oversight and quality control)... our customers tell us they love our commitment to durable, long-lasting batteries.
One key reason we can achieve this quality is that we're fortunate to have an educated, hardworking, local workforce. They make it easy to "go local" -- and this supports the local economy where we all raise our families (Learn more here). Here's how you (and our workers) benefit from Made in USA quality:
Give back to the local community
We're proud to support the local community, from sponsoring 5Ks to cure diseases, to donating to the Red Cross, Sandusky County Farm Bureau, and area schools.
But it also benefits everyone.
Treat workers well -- and keep them safe
The people we work with are our neighbors, friends, and family. Many of them have worked for Crown Battery for 20, 30, even 40 years.
And we collaborate with the local community and various government agencies to ensure our employees have a safe working environment. They're protected from unsafe working conditions and low wages -- which are common in outsourced and overseas manufacturing.
Our attention to safety has earned us multiple safety awards from the Ohio Bureau of Workers' Compensation.
Build better batteries using advanced manufacturing
One key reason that Crown batteries last longer and perform better is the manufacturing process itself. We've invested heavily in robotic assembly, computerized pasting and curing, and Cast-On-Strap welding. Together, these high-tech processes help improve consistency, efficiency, and longevity.
(Click here to learn more about the quality differences in this article from Solar Power World.)
If we outsourced production, we'd have less control over how batteries are manufactured. Some plants might have newer technology (or antiquated methods). It'd be prohibitively expensive to maintain the same level of technological sophistication and efficiency -- and that cost would be passed on to end-users.
No thanks. By making our lead batteries in a centralized location, we use the latest technology for all our batteries -- and everyone benefits.
High value and competitive pricing
When we brought even more manufacturing to Fremont over the past 11 years, we knew it would improve quality and consistency. What surprised us was, the cost differential for Ohio-based manufacturing was much smaller than we anticipated.
Yes, wages are higher here than in markets where unskilled labor dominates. But our productivity is high, and we have access to a highly qualified workforce. It's also easier to continuously train and educate employees from a central location.
In addition, we've built a culture that encourages constant improvements and eliminating inefficiencies. Once quality, performance, and support are taken into consideration, it's a no-brainer for us and for our customers.
Stringent quality control
At our Fremont, OH plant, we're able to closely monitor and constantly improve battery quality.
The quality and engineering teams are located inside our plant and can work with manufacturing to ensure batteries meet exacting specifications.
In addition, we're able to achieve economies of scale for advanced QC tools -- from aerospace vision systems to automated voltage testers. These computer-controlled systems supplement our trained on-site technicians, so you get long-lasting batteries that you can depend on.
Expert technical support and customer service
Crown customers get technical support direct from our customer service team and on-site engineers – not outsourced help from a call center thousands of miles from the plant. That means you'll get better help, faster and easier.
Better collaboration between departments
Because so much of our business literally happens under one roof – from engineering, receiving, and manufacturing to technical support, sales, and customer service – we're able to communicate better and make improvements faster. When key business functions are under one roof, this also reduces shipping costs and improves efficiency.
Reduced carbon footprint:
Oftentimes, products made overseas start with raw material from the USA. We're able to source substantial amounts of our recycled material, including plastic and lead, from the United States. This, along with our renewable energy sources and energy conservation programs, helps reduce our carbon footprint.
Strong environmental controls:
According to the U.S. EPA, lead batteries are 99% recyclable – more recyclable than an aluminum can. That's important. We also think battery production is key to protecting the environment. Now, in many industries, outsourcing to the lowest bidder means shortcuts in safety and quality -- including outdated, dangerous processes that cause heavy pollution.
At Crown Battery, we meet or exceed stringent federal, state, and local environmental guidelines. That means we can ensure we're protecting the local environment – and our workers.
Sustainability:
Crown Battery invested millions in solar panels, wind turbines, geothermal cooling, and filtration systems to minimize our environmental footprint, and protect our natural resources and the community.
Want to learn more about where you can find Made in the USA batteries? Click below to find a distributor near you.