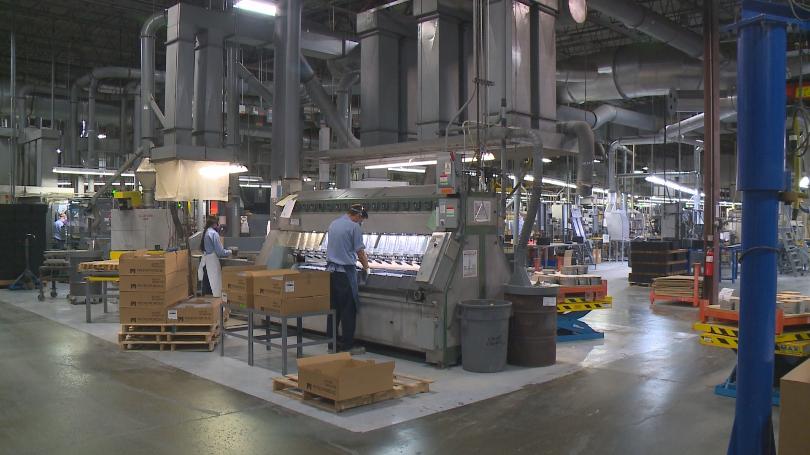 A family-owned business started in 1926, Crown has been making batteries in Fremont, Ohio for more than 90 years. Recently, we were recognized by ABC 13 for our growth, expanding workforce, and future endeavors. If you missed it, you can read the full article right here.
Company Growth
Crown has been making commercial and industrial batteries in Fremont for more than 90 years. From mining equipment, to cars, and golf carts—Crown Battery makes products that are used all over the world.
Our Sandusky County business has seen a lot of growth in recent years, and that trend is continuing. In the last decade the company has doubled its workforce! Now, Crown is expanding its business into the Toledo area.
A family-owned business
Crown Battery is a family-owned business that started in 1926. The years haven't slowed this company down in the least, it's still going strong! Mark Kelley is the Vice President of the Industrial Products Group, "Today we are really two companies in one. We have our small battery or commercial division where we make batteries for cars, boats, lawn equipment and floor scrubbers. Our large industrial batteries are used in things like forklifts, mining and railroad equipment."
Kelley says the batteries are used all over the world, everywhere from South Africa and Australia to China and the Middle East, "We've even had a battery go to Antarctica for the weather station, so there is no place we won't try to put a battery."
Thriving in the energy market
Crown's products are also used in one of the fastest growing sectors of the energy market, "A lot of our batteries are now being used for renewable energy applications so things like solar and wind. As that segment continues to grow, they need a space to store that energy and that's what our batteries do."
The company has gone from about 300 employees ten years ago to more than 600 today. A lot of that growth has been in the last couple years. Carly Ronski is the Marketing and Communications Manager for the Industrial Division,"I started here just over 2 years ago. Just since then we've added about 115 employees."
Kelley says the growth is expected to continue, "Today the Crown Battery companies combined are about $220 million in annual revenue. That is charting to $300-$400 million in the next 3-5 years."
As that growth continues, Crown has added space, equipment, and people in Fremont, "We're hiring customer service, quality control, engineers and production jobs."
Company Expansion
There's growth outside Fremont too. Crown recently bought an Ohio-based company called Warehouse Energy Power that has a branch in Toledo. Ronski says the plan is for slow growth in Toledo, eventually having up to 30 employees at the facility,"We are looking for a new, larger facility for Toledo, so we are currently looking to expand there in the next couple years. We'll eventually have more jobs there and hopefully continue to grow that plant."
Not long after Crown purchased the Ohio-based business, the company also acquired a company in California. In 2007, Crown bought a larger competitor that was operating a production facility in Mexico, "They probably had about 200 people working at the plant in Mexico making batteries.We moved that operation to Fremont." Batteries and jobs for the world all coming from Fremont.
It's exciting to be able to provide jobs both in our community and our country, and to be recognized for it, and we look forward to taking our local legacy much further in the next few years.
Original Article written by: Lissa Guyton and posted on Wed 6:09 PM, May 31, 2017 on ABC 13.