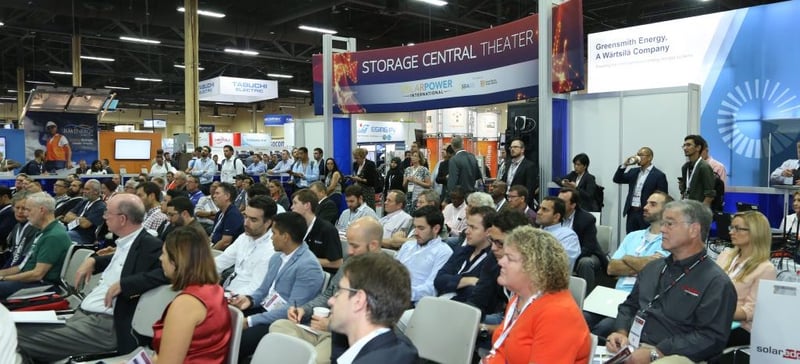 Recently, we covered some of the most interesting things you can expect to see and hear at SPI 2018, North America's largest expo for renewable energy.
Now, we want to help you make the most of your time there. And since last year's event had 20,000 attendees and hundreds of exhibitors – we're betting the experience this year could get a little overwhelming.
Unless you can teleport or be in two places at once, you probably won't be able to do it all. So, it's a good idea to take some time and think about where you will find the most value, and how you can hit the areas that will most benefit your business. Here are some tips to get started.

GET THE APP
Yes, there's an app for that. The SPI 2018 Mobile App (for iPhone, iPod or iPad and Android) lets you quickly view exhibitor information, schedules, conference session, and speaker information and a map of the show floor. So, study it before you or use it once you're there to find the best route to your favorite sessions. (You can even message other attendees!)

HAVE A PLAN
Using the app or the website, you can find information on all the exhibitors, speakers, sessions, and products being featured. Choose sessions and plan to see products that align with your goals and plans for the year – and avoid wasting time on ones that won't. It's helpful to prioritize the most valuable booths and sessions first and plan to hit extras if you have time.

NETWORK
Even if you're not online, you can always connect with people the old-fashioned way, face to face. In fact, we recommend it. Don't just connect with exhibitors and speakers, connect with other attendees. You never know when a new connection might move your business to the next level. And what better place to find those connections than at an event filled with like-minded people?

By having a plan, getting social, and aligning your show plans to meet your business goals, you can make sure the trip to Anaheim for Solar Power International gives you enough new knowledge, connections, and opportunities to make your next year a great one.

What to make your planning even easier? Click here to read "Preparing for Your Visit to SPI 2018."