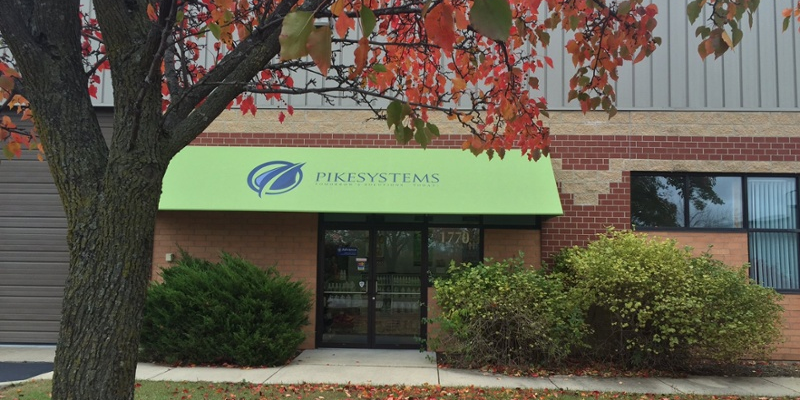 Montgomery, IL — Pike Systems provides full-service janitorial supplies and service for school districts, hospitals, and health departments. As Ed Bernal of Pike Systems says:
"My customers can't afford downtime. If their batteries aren't reliable, or if they have to wait for new batteries, they're not getting their job done [...] With Crown, we can turn around batteries really quickly and get their machine up and running within two to three days. That's huge."
With this in mind, Ed breaks down how Crown Battery helps him achieve some of his biggest goals.
RESULTS:
Next-day deliveries keep customers thrilled
Only six warranty claims in 15 years
Less money tied up in inventory
Hands-on support and fast product matching
New profit streams and easier sales process
ON COMPARING SUPPLIERS:
"We've had two other battery companies come in here. But they weren't nearly as flexible with delivery. And they just wanted to push numbers: 'Okay, you ordered four of these, so I need you to pick up two more.' They wanted to dictate how many batteries we'd have in-stock. Look, we're not stocking batteries we're never going to sell. First, batteries get old. Second, there's no reason for us to stockpile them and tie up our money. Third, we have Crown Battery—so we don't have to deal with that."
ON DEVELOPING BEST PRACTICES:
Even the best batteries won't last without proper inspection and routine maintenance. Pike Systems has created their own system to ensure their customers' battery banks stay up and running:
"Some companies just drop the machine off and never tell customers how to water batteries. It makes me angry seeing people pay $10,000 for a machine – and they only use half its potential before they accidentally kill the batteries. After a sale, our service tech and salesperson go through a checklist with our customers. We service machines and check in routinely. And we train workers on maintenance and watering – even give them wall charts to sign off on."
With Crown Battery's help, they're able to turn around orders and deliver batteries faster, too:
"Downtime on a machine is critical for our customers. Fortunately, with Crown we can get replacement batteries really fast if there's a battery issue. We can have their machine up and running within two to three days – where other companies may take weeks. That fast turnaround keeps customers coming back. Plus, if I call an emergency order, my Crown reps can think outside the box – no red tape or long delays like I've dealt with before."
ON THE BENEFITS OF CROWN:
Fast, Flexible Delivery
Crown Battery has distribution centers across the United States – and dealers on six continents. Ed explains how this distribution network saves time and overstock hassles:
"Our owner likes to keep everything local. If we need help, our people at Crown Battery can come over and drop off the batteries. And I never even have to unload batteries, so that's one less thing on my plate. Crown ships faster than Amazon—we have next-day delivery. And we can go to Crown and pick up batteries. They'll even let our customers pick up batteries if we're tied up. Crown's extremely fast, reliable, and flexible."
Just 6 Warranty Claims in 15 Years
"Crown Batteries are great on reliability. I think I've returned six batteries in my time here – and I've been here for 15 years. And Crown makes warranty claims easy. With many companies, a typical warranty claim would take me about two weeks after diagnosis. I'd have to write an online essay on where the machine failed, what it was doing, and what caused it to fail. It's like the worst part of school. And then I'd lose money and time on labor, transit time, picking failed parts, returns, and plussing the part that needs replacement. Finally, I'd wait for weeks before getting a verdict. I just want to help customers and grow my business. Crown Battery frees me up to do that."
Less Money Tied up in Inventory
"Other battery companies told us, 'You have to stock so many batteries to keep the account.' I didn't want that. Worse, if too many batteries got delivered to this warehouse, I'd have to transfer them to the other warehouse. Then, I'd have wasted time, space, and money. Fortunately, Crown never forces us to carry anything. I stock only the batteries I need. And our reps at Crown Battery help us run lean and profitable, with zero pressure."
New Profit Streams and Fewer Hassles
"My Crown reps periodically reach out to me when they have new watering systems – which helps customers and improves our bottom line. Their expertise simplifies my day-to-day, too. When I call, they always have all the model-specific data on hand. They'll even figure out runtimes for me. And they're a wealth of knowledge about switching to maintenance-free batteries and new chargers. Finally—and most importantly—they can instantly match up batteries, check our stock, and make ordering fast and simple."
Hands-on Support and Product Matching
"With Crown's website and the measurements on the batteries, my service techs can just take pictures and get the right measurements. If I'm unsure, our reps at Crown Battery are always there to help. A few times, they helped us avoid ordering mistakes—saving me time and keeping my customers happy. And we frequently direct customers to their website, because Crown has great educational material on key issues like battery watering. That saves our time."
IN SUMMARY:
"Crown is the best way to go if you're looking for somebody flexible, efficient, and knowledgeable. My Crown Battery reps are quick, they're knowledgeable, and they make my life a lot easier. I've been here 15 years, and their batteries are so reliable, I can count warranty claims on one hand (and a thumb). Best of all, Crown makes my customers happier, and that helps me build strong relationships."
Want more flexibility, greater profits, and fewer hassles?
Visit www.crownbattery.com/how-to-buy to find out if switching to Crown Battery is right for you.