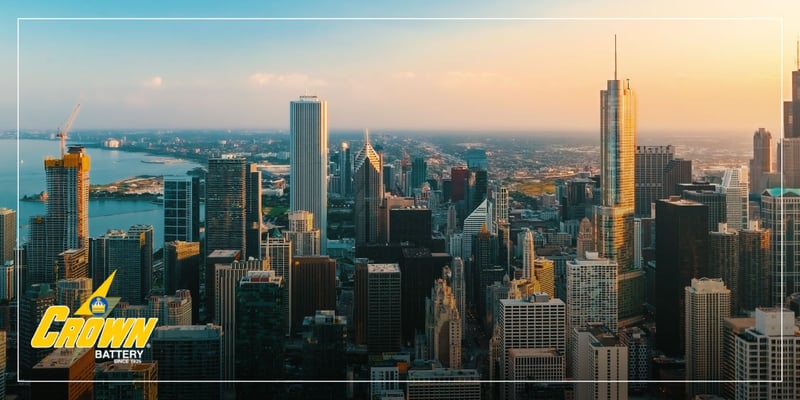 If you're headed to ProMat 2023, you'll want to fuel up with some of the city's best eats. From mouth-watering pizzas and hot dogs to Asian cuisine and modern gourmet restaurants, McCormick Place – South offers a smorgasbord of culinary delights to satisfy every craving.
To help you navigate Chicago's food scene like a pro, we've curated a list of top-rated dining spots based on personal experience, extensive online research, and proximity to the trade show.
Transportation/Getting around chicago
But first, let's talk about the best ways to get around the Windy City. You can choose from the city's public transportation system (the second largest in the US), from taxi, Lyft, and Uber drivers that swarm the convention center, or you can explore the city on foot. To help you make the best choice for your time and energy, we suggest comparing travel times in Google Maps or your favorite navigation app.
Now that you know how to get around like a local, let's dive into the top picks for nearby food.
For pizza lovers, Lou Malnati's Pizzeria and Connie's Pizza are must-visit spots. Lou Malnati's is known for its buttery dough, fresh ingredients, and amazing sauce, while Connie's Pizza offers decadent Chicago-style deep dish pizza and artisan pizzas with thinner crusts and fresh, tasty toppings.
If you're looking for a spicy culinary adventure, head to Lao Sze Chuan, located in Chicago's Chinatown. Owned by Chicago restaurateur Tony Hu, this restaurant is a top pick for people who love the fiery flavors of the Sichuan region.
For breakfast, brunch, and lunch, Yolk, a local Chicago staple, is an excellent choice. The menu offers plenty of egg-based dishes such as omelets, scrambles, and quiches, along with savory sandwiches like grilled cheese and Reubens.
For those who want to enjoy satisfying sandwiches without breaking the bank, Eleven City Diner is the go-to spot. Their signature dishes, like their Reuben sandwich, matzo ball soup, and corned beef, will surely please even the pickiest of eaters.
If you're in a hurry, Jim's Original Hot Dog, located in University Village/Little Italy, serves up Polish sausages buried in sautéed onions and mustard, plus other comfort food favorites.
For a memorable dining experience, head to Mercat A La Panxa, which overlooks Grant Park and serves up delicious meals in a stunning setting.
If you're a plant-based food lover, The Chicago Diner is the perfect spot to get your fix. This popular restaurant serves up plant-powered comfort foods like burgers, sandwiches, and milkshakes. The Radical Reuben, an award-winning sandwich with corned "beef" seitan, grilled onions, and kraut, is a must-try.
Last but not least, The Chicago Firehouse Restaurant is a classic American steak and seafood restaurant located in the heart of downtown Chicago. Founded in 1905, this historic location has served delicious meals for over 100 years! Top picks include mouth-watering prime rib and fresh fish.
If you're hungry for more ProMat tips, enter your email below to subscribe to our blog, and get them delivered right in your inbox. And, if you're looking for a hassle-free battery experience, stop by Booth #S1075 at ProMat. We'll see you there!
---