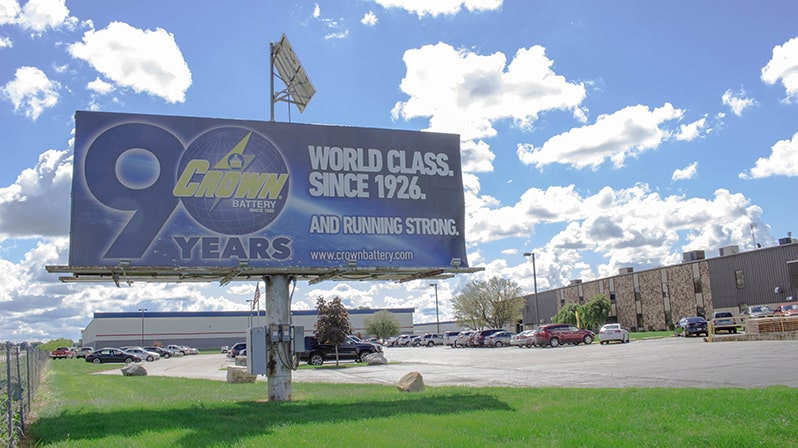 There are a few times in life when we pause to reflect - birthdays and anniversaries, milestones like graduations, the end of major projects, and at the start of a new year. This really isn't any different given that Crown Battery Corporation celebrated 90 years of business this year. The difference may be in the fact the Crown Battery seems to just be hitting our stride. Join us as we take a brief look at what we have accomplished.
Back in 1926 our original owner, William Koening, pursued a dream of many Americans - to own a business. As a German immigrant he started a small battery repair shop located in Fremont, Ohio; the city where our corporate offices are still located today. His drive and determination, with a focus on quality and customer service has allowed us to hit many significant improvements over the years. Consider a few of these accomplishments:
We moved the primary location of our headquarters twice while still remaining in Fremont, Ohio and commited to the community of which we are an active part.
Five major expansions were done on our various locations. Our current facility is now over 250,000 sq ft.
Our company has had 3 owners, with 2 being in the same family - William Koening and his son, Lee.
During our first 30 years we were a thriving local business. In the next 30+ years we grew to a regional company throughout the midwest. In the past 30 years we have expanded to an international organization with operations and facilities in Canada and Mexico.
The number of talented individuals we employ has also grown exponetially over the years. In 1989 we had grown to over 200 employees. That number doubled to over 400 employees just 18 years later, to over 500 employees today.
The scope of our business has also changed dramatically over the years from a small battery repair shop. In 1950's we started to manufacture automotive batteries. By the 70's we added industrial plates and batteries to our production lines. We entered the railroad market in 2007.
Seven independent business entities have acquired in the last 30 years, allowing us to increase our product line and expertise as well.
We invested in an R&D facility in 2009, and added a 69,000 volt sub-station for our future power needs in 2014.
We truly can claim to serve the world's power needs. Today Crown Battery Company serves the global battery market through a sales force and service network strategically positioned in six continents and more than fifty countries.
Yet despite all our accomplishments, it has only been possible with the dedication and hardwork of our employees that have believed in our goals and ambitions. They are the ones that allow us to serve our customers and to dream big for the next 90 years and beyond. Our video below shows some of the highlights.
To those that have been a part of this journey as employees and customers alike, thank you. To those that we have yet to support as customers and business partners, we look forward to getting to know you.