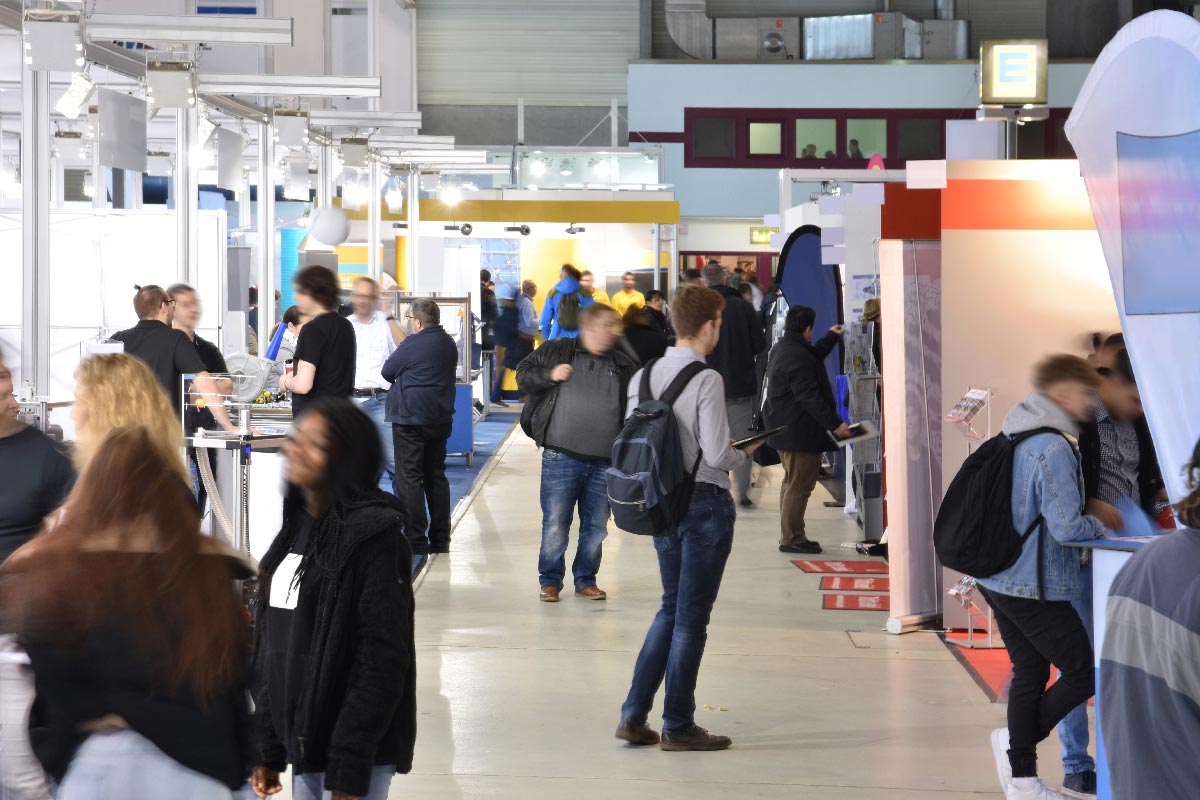 WHAT IS PROMAT?
On April 8-11, manufacturing industry leaders, consumers, and innovators will converge on
Chicago's McCormick Place to showcase the latest manufacturing, distribution, and supply
chain equipment and systems.

Whether you want to stay up-to-date on the newest trends – or discover how to take your
business to the next level, you don't want to miss ProMat; it's the premier showcase of
material handling, supply chain, and logistics solutions in North America.


AT PROMAT 2019 YOU WILL:
 See the manufacturing and supply chain solutions you need to succeed
 Discover the newest innovations the industry has to offer
 Meet leading providers face-to-face
 Build strong business partnerships
 See hands-on demonstrations of the latest technologies and innovations
 And more


STRATEGIC EDUCATION
The show floor of ProMat is specifically set up to offer solutions in specific areas:
manufacturing and assembly, fulfillment and delivery, and information technology.

Specifically, key areas are:
 Manufacturing and Assembly Solutions
 Fulfillment and Delivery Solutions
 Information Technology (IT) Solutions
 Sustainable Supply Chain Solutions
 Knowledge Center (Education Sessions)
 Autonomous Vehicles
 Emerging Technologies Solutions

To guarantee attendees find the solutions they need, the event showcases 910 leading
material handling and logistics providers from industry, commerce, and government.
In addition to learning from the exhibitors, you'll also have access to extensive educational
conferences. Sessions include everything from improving operational productivity and visibility
in manufacturing to bolstering distribution and the overall supply chain.

The format allows attendees to learn about the latest technology in their desired area, and
then see that technology up close and even take it with them. Exhibitors are available for
demonstrations and to answer questions and teach attendees how they can implement
solutions.


SPEAKERS
All keynote presentations are free to registered attendees and will cover topics from supply
chain sustainability and intelligent machines to knowing your customers. There are a number
of industry leaders featured including Karim R. Lakhani from Harvard Business School. Mr.
Lakhani will speak on the possibilities of blockchain technology to overcome common
problems and challenges in manufacturing and the supply chain. You'll also learn how
blockchain technology can improve transparency, payments, and speed – while saving money
and improving efficiency.


Other speakers include:
 Reshma Saujani, Founder and CEO, Girls Who Code
 George W. Prest, CEO, MHI; and Scott Sopher, Deloitte Consulting LLP's Supply
Chain Practice
 Marcus Lemonis, CNBC's "The Profit," CEO, Camping World, and serial entrepreneur
 And more!


SEMINARS:
While there are too many to list here, the show floor seminars at ProMat are expert-led and
cover a wide range of topics within supply chain, material handling, and logistics.


Some seminars include:
 How to Create Sustainability in the International Supply Chain
 Reuse Is Today's Way for Transport Packaging
 Integrating Drones in Logistics and Inventory Management
 Achieving Return on Investment: Demystifying the Hype and Achieving Implementation
Success
 Less is More: Sustainability Might be More About What You Don't Use than What You
Do
 Automating Your Inventory Management With Drones So It's A 100 Times Faster
 And so, so, many more!

Seminars will cover topics targeted to a wide variety of industries, including:
 Automatic Identification Equipment and Systems
 Dock and Warehouse Equipment and Supplies
 Packaging, Containers, and Shipping Equipment
 Material Handling Equipment and Systems
 And More!
WHO SHOULD GO?
With something for everyone, ProMat appeals to anyone who's interested in learning more
about the above industries, already works in them, or wants to learn about the latest
technologies and cost-cutting solutions.

To learn more about all ProMat 2019 has to offer and to sign up, you can visit their website.