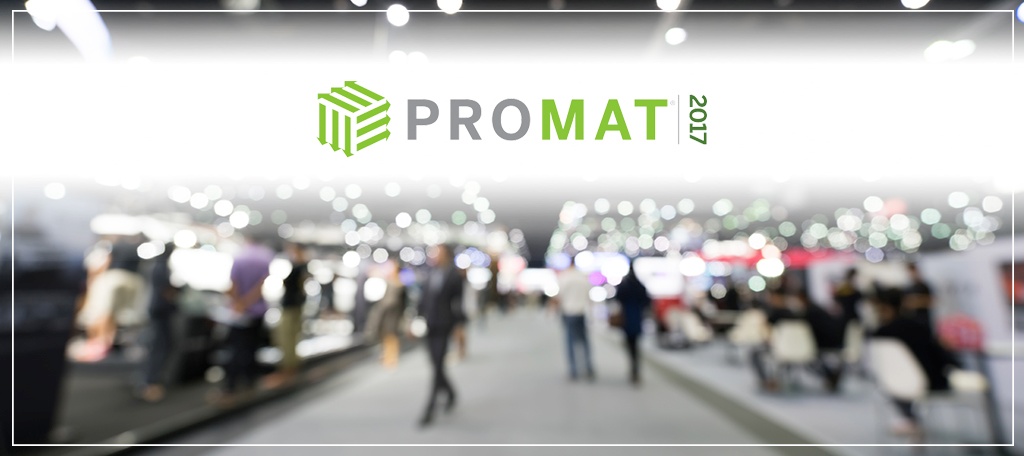 On April 3-6, manufacture industry leaders, consumers, and innovators will converge on Chicago's McCormick Place to showcase the latest manufacturing, distribution, and supply chain equipment and systems.
When manufacturing and supply chain professionals are missing that certain something to take their business to the next level, they come to ProMat; the premier showcase of material handling, supply chain and logistics solutions in North America.
At ProMat 2017 you will:
See the manufacturing and supply chain solutions you need to succeed

Get the best solutions and innovations the industry has to offer

Meet the leading providers face-to-face

Build strong business partnerships

See hands-on demonstrations of the latest technologies and innovations

And More
Strategic Education
The show floor of ProMat is specifically set up to offer solutions in three specific areas: manufacturing and assembly, fulfillment and delivery, and information technology. At the same time, an extensive educational conference runs, providing sessions on improving operational productivity and visibility in manufacturing, distribution and the overall supply chain. This format allows attendees to learn about the latest technology in their desired area and then see that technology up close and even take it with them. Exhibitors are available for demonstrations and to answer questions and teach attendees how they can implement solutions.
To guarantee attendees can find the solutions they need, over 880 leading material handling and logistics providers from industry, commerce and government will be showcased.
Speakers
All keynote presentations are free to registered attendees and will cover topics from supply chain sustainability and intelligent machines, to knowing your customers. There are a number of industry leaders featured including Earvin "Magic" Johnson. Mr. Johnson will speak on the importance of knowing your customer and knowing where they are going. Chairman and CEO of Magic Johnson Enterprise, he has propelled his company to the status of the #1 Brand in Urban America valued at an estimated $1 billion dollars. He will share his experience and advice with attendees.
Other speakers include:
George W. Prest, CEO, MHI

Markus Lorenz, Partner, Managing Director, The Boston Consulting Group

Andrew Winston, Sustainability Expert and author of Green to Gold

And more!
You can find the full list of speakers and topics here.
Seminars:
While there are too many to list here (100 to be exact) the show floor seminars at ProMat are expert-led and cover a wide range of topics within supply chain, material handling, and logistics.


Some seminars include:
Warehouse Fire Sprinkler Codes and Impact in Storage Racks

Step Up Your Battery Care

Drones in the Supply Chain: What's the Big Deal About Cycle Counting

Planning and Implementing your Automation Needs

Extend the Life of Your Aging Material Handling Assets

Unlocking One-Touch Omni-channel Distribution

Technology Advancement of Aerial Robotics

And so, so, many more!
Seminars will cover topics highly targeted to cover a wide variety of industries including:
Automatic Identification Equipment and Systems:

Dock and Warehouse Equipment and Supplies

Packaging, Containers, and Shipping Equipment

Material Handling Equipment and Systems

And More!
Who Should Go?
With something for everyone, ProMat appeals to anyone interested in learning more about the above industries, those that work in them, and those that want to learn about the latest technologies, and cost-cutting solutions within these industries.
To learn more about all ProMat 2017 has to offer and to sign up, you can visit their website. Then prepare for your visit by downloading our free show guide. We hope yo see you there!