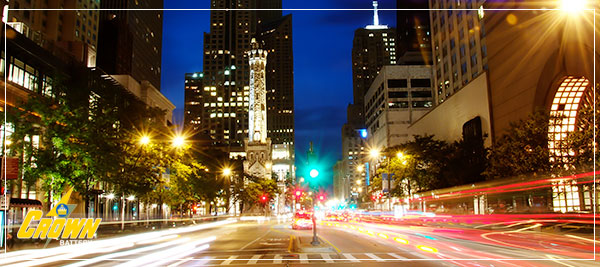 Spending all day at a show like ProMat can be exhausting. Not only are you traversing thousands of square feet of show floor, but you're talking, networking, shaking hands, and interacting with people for hours on end. For some people this means at the end of the day they just want to go to bed. But for others, it will mean you want to unwind and relax. We've put together this list of Chicago nightspots for every post-show craving you might have so you can be fresh and ready for the next day - and have a little fun, too.
---
You Want to Watch the Game? Head to...
The Scout
1301 S Wabash Ave.
Chicago, IL 60605
This South Loop sports bar is a hot spot for Bears games. Even though it's not football season, you can still choose from one of more than 50 beers, including a great selection of local brews, and take in whatever is showing on one of the more than 30 TVs. Of course, the crowning jewel of this spot is the Signature Foot Long Grilled Cheese - available in three mind blowing combinations including short rib.
You Want to Try a Craft Cocktail? Glide over to...
The Violet Hour
1520 N. Damen Ave.
Chicago, IL 60622

The cocktail scene in Chicago is worth checking out. Besides, there is nothing quite so relaxing after a long day of pounding the pavement as a well made drink. Saunter on over to the cozy embrace of The Violet Hour and sip on whatever the barkeep has to offer. One local favorite, as named by Chicago Magazine, is the First Snow, which is made with Herbsaint, aquavit, egg white, lemon sugar, and peppermint. Mmmm, refreshing.
You Want to Dance the Night Away? Two-step to...
2109 S Wabash Ave.
Chicago, IL 60616

Whether you want to forget about a bad day of networking or celebrate a great one, this Chinatown club is a place where you can dance it all out. With celebrated hip-hop stars and DJs from around the world stopping in all the time, you're sure to find your groove here.
You Want to End the Day with Something Sweet? Munch your way towards...
Mindy's Hot Chocolate
1747 N Damen Ave
Chicago, IL 60647
If dance clubs and cocktail bars are not exactly your scene, Chicago still has plenty to offer. Like mountains of delicious desserts. Check out this local favorite for much more than hot chocolate, like brioche doughnuts with cold coffee dip, pineapple upside down cake, and baked Alaska bars. They're open til 10pm so you can satisfy that late night sweet tooth.
You Want to Take in a Show? Hop a ride to...
1650 N Halstead Ave
Chicago, IL 60614
The Chicago theatre scene is rivaled only perhaps by Broadway and London's West End. Stop into the famed Steppenwolf Theatre - which boasts founders John Malkovich and Gary Sinise - for a performance of their latest offering. Tuesday and Wednesday night you can still get tickets for Marie Antoinette. Nothing like a good beheading to get you in the mood for closing deals.
You Want to Laugh Your Head Off? Giggle over to..
Pipers Alley Commercial Mall Shopping Center
1616 N Wells St
Chicago, IL 60614
Chicago is all but synonymous with great comedy. Check out an improv or sketch show at Second City, the comedy breeding ground for such funny stars as Chris Farley, Tina Fey, Bill Murray, and Mike Myers.
---
If you want even more information on how to get the most from your trip to Chicago and ProMat 2015, be sure to download our free guide.
---