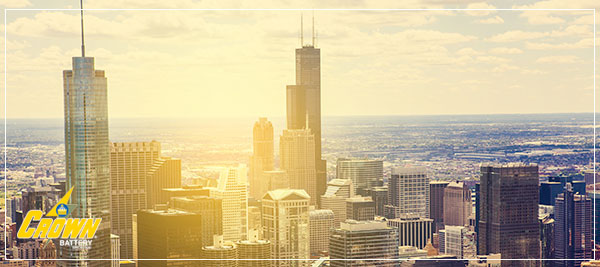 ---
Chicago is something of a dining destination for the Midwest. Some of the country's hottest chefs have made the Windy City their home and brought with them innovative and delicious takes on contemporary cuisine. And of course, we cannot forget Chicago's famous pizza and hot dogs.
So even though we know you will be at the ProMat show for work, we think you should find some time to check out a few of these Chicago institutions. We've even provided the easy transportation options for getting to them from McCormick Place - South.
Connie's Pizza
You can't visit Chicago without sampling the decadent tower of tomato and cheese that is a Chicago-style deep dish pizza. Luckily, there are a few options within just a stone's throw of the convention center. Connie's Pizza is a local favorite that offers deep dish as well as artisan pizzas with thinner crusts and a variety of fresh, tasty toppings.
You can either check out the small outpost that is inside of McCormick Place, or pop over to the Archer Ave. location for the full experience.
2372 Archer Ave.
Chicago, IL 60616
conniespizza.com
Transportation: It's a bit of hike from the convention center, but a cab for the 2.4 miles to Archer Ave. is well worth the price.
Lao Sze Chuan
McCormick Place is quite close to Chicago's Chinatown, meaning there are plenty of great Chinese food options in the area. This one, owned by Chicago restaurateur Tony Hu, is a great option for people partial to the spicy dishes of the Sichuan region.
2172 S Archer Ave
Chicago, IL 60616
tonygourmetgroup.com
Transportation: Chinatown is only about a mile from the convention center, so take a cab, a quick stroll, or hop on the #21 Cermak bus.
Yolk
A local Chicago chain with a location near the convention center, Yolk is the perfect place to stop in for breakfast or brunch. As you might guess, the egg dishes are quite popular but lunchtime favorites including delicious sandwiches are also worth ordering.
1120 S Michigan Ave
Chicago, IL 60605
eatyolk.com
Transportation: It's about a 30 minute walk up Michigan Ave, or you can hop on the #2 bus or the ME train (to Museum Campus station) and get there even faster.
Eleven City Diner
For a solid sandwich and a decent price, be sure to check out the Eleven City Diner. Corned beef is always a favorite but the pastrami and matzo ball soup are also worth a try.
1112 S Wabash Ave
Chicago, IL 60605
elevencitydiner.com
Transportation: Just around the corner from Yolk, take a hike or get on he #2 bus or the ME train to Museum Campus station.
Jim's Original Hot Dog
If you don't have the time for a full sit down meal, a Chicago hot dog can certainly hit the spot. This University Village/Little Italy location serves up Polish sausages buried in sauteed onions and mustard and other comfort food favorites.
1250 S Union Ave
Chicago, IL 60607
jimsoriginal.com
Transportation: You'd have to change buses to get to these dogs, so probably better to just take a cab.
Hackney's Printer's Row
Want some of the greasy comfort of a hot dog that's a little dressed up, try this tasty Printer's Row pub. With offerings like Reuben Egg Rolls and French Fried Onions. It might not be the heart healthiest option but it won't disappoint the tastebuds.
The Loop
733 S Dearborn St
Chicago, IL 60605
hackneysprintersrow.com
Transportation: Another spot in the Museum Campus area, just take the ME train or hop in a cab for these fried wonders.
Mercat a la Panxa
Sharing a great meal can be the best way to make those ProMat connections really stick. This Spanish tapas restaurant that overlooks Grant Park is not the cheapest option on the list, but it is a worthwhile Chicago experience.
South Loop
638 S Michigan Ave
Chicago, IL 60605
mercatchicago.com
Transportation: The #3 bus or the ME train to Van Buren station will get you within walking distance to this yummy spot.
Download the guide below:
---