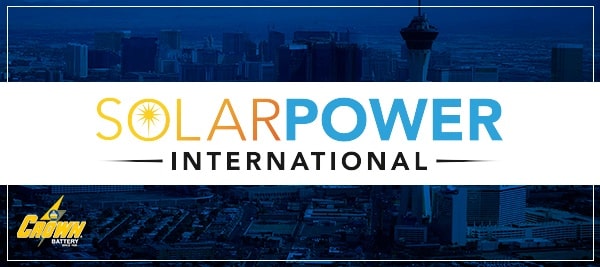 Every industry has its trade shows to educate, share, and promote their individual product advancements and innovation; and the power industry as a whole is no different. This September 12-15, 2016 the
solar power industry
will gather in Las Vegas, NV to network and share best practices between manufacturers, installers, and storage experts.
Think Big
The SPI show is about more than just harnessing solar power as a renewable energy source, but also finding and showcasing new avenues of energy storage. This year's show will offer attendees over 630 companies to share ideas with and over 100 different seminars, workshops, and expo to take part in over the 4-day event. From the curious investor to the seasoned veteran looking to maintain industry certification, The SPI show has something for everyone.
Experience More
Of course, as a leader in renewable energy systems, Crown Battery will again participate to feature some of our products and expertise. Our products continue to be manufactured at a plant with roof-mounted solar and wind arrays, and every battery includes recycled lead and plastic to help protect the environment. As core values of the company, attendees will also learn about Crown's focus on innovative manufacturing processes and thorough QA testing standards. This attention to detail has allowed us to maintain such high standards of quality and performance customers have come to expect.
Until Then
But we may be getting ahead of ourselves, the show is still a month away. Follow our blog as we will share some details of what you can experience at this year's Solar Power International Show and take advantage of our guide to having a successful experience before, during, and after the event. Then make sure to stop by booth #3005 and say hello. We would love the opportunity to talk in person.