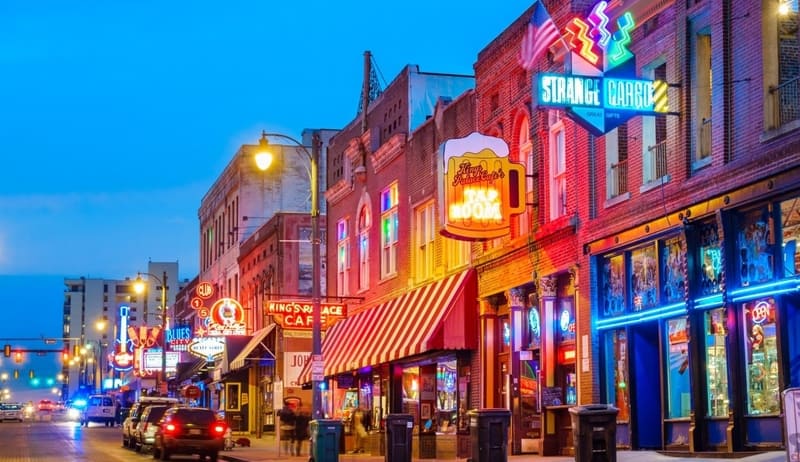 Memphis on the Mississippi River is the birthplace of the blues, of soul and of rock 'n' roll. Elvis, Roy Orbison, Jerry Lee Lewis and Johnny Cash all recorded at the historic Sun Records—which is now a museum. Other music landmarks include the Rock 'n' Soul Museum, Blues Hall of Fame and Stax Museum of American Soul Music.
Beyond the music, you will enjoy great dining, museums, art galleries, parks and exciting nightlife. You are sure to have great weather as Memphis has more sunny days each year than Miami! We have developed a list of must do's during your visit to Memphis!
---
Graceland
Elvis Presley Blvd, Memphis, TN 38116 | Open 9AM—5PM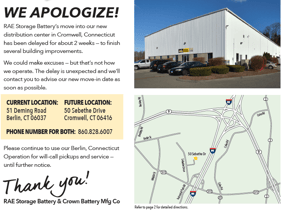 Graceland is the home of Elvis Presley, the King of Rock 'n' Roll. Elvis Presley's Graceland is open daily with tours of Graceland Mansion. The new complex includes a new automobile museum, Presley Motors, and Elvis: The Entertainer Career Museum, the world's largest and most comprehensive Elvis museum in the world, as well as many more exhibits, restaurants and shops.
Beale street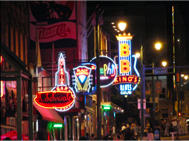 This historic street known as the "Home of the Blues." Flashy music clubs and restaurants are abound. This eclectic drive is filled with shops, art, cafes, restaurants, bars and so much more. You can spend hours here just exploring the different businesses along the street. Make sure you check out A. Schwab's — Beale Street's only remaining original business. It is part museum and part general store.
national civil rights museum - Lorraine motel
450 Mulberry St, Memphis, TN 38103 | Open: 9:00AM—5:00PM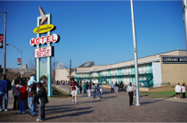 National Civil Rights Museum is a renowned educational and cultural institution—at the place of Dr. Martin Luther King, Jr.'S death in 1968. The Museum chronicles the American Civil Rights Movement with compelling presentations of iconic exhibits, oral histories of lesser-known civil rights foot soldiers, and visceral, in-the-moment experiences.
the Peabody ducks
The Peabody Hotel, 118 S 2nd St. Memphis, TN 38103 | Daily at 11:00AM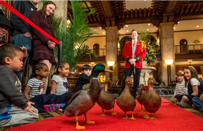 This is a must see attraction located within the hotel the EBG Convention is being hosted! Stemming from a prank in the 1930s, the Peabody began the internationally famous tradition of the Peabody Duck March. Nearly 90 years after the inaugural march, ducks still visit the lobby fountain at 11:00AM every day.
nightly light show on the Mississippi river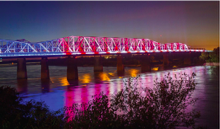 The Harahan, Big River Crossing and Hernando de Soto bridges, which span over the Mississippi river, can be seen in a different way, every night. Memphis is one of the few places in the U.S. that offers a great view from the banks of the famous waterway. The light show is one of the ways that visitors can enjoy the city and see it from a unique perspective.
autozone park
200 Union Ave., Memphis, TN 38103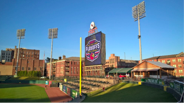 AutoZone Park is a Minor League Baseball stadium located in downtown Memphis, and is home to the Memphis Redbirds of the Pacific Coast League and the Memphis 901 FC of the United Soccer League. Catch a game with the EBG group while you are in town!
crystal shrine grotto
5668 Poplar Ave., Memphis, TN 38119 | Open 7:30AM—5:00PM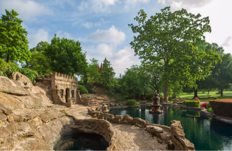 The Crystal Shrine Grotto is located in the center of Memorial Park Cemetery in Memphis. The Grotto is a 60-foot deep man made cave comprised of magical electrical artwork. Beginning in 1938 the cave was dug into the hillside at the center of the park and is comprised of almost 5 tons of natural crystals hand placed onto the cave walls and ceiling. Roughly 100,000 people visit The Grotto each year.
old Dominick distillery
305 S Front St., Memphis, TN 38103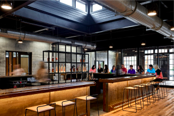 Old Dominick Distillery is a distillery with tours, tastings, retail shop and event space. The distillery makes a full line of fine whiskeys and vodkas. Daily distillery tours and tastings are available. Born of an immigrant's passion in booming pre-prohibition Memphis, Old Dominick's fine Memphis spirits and stories are made to be shared.
Distillery Hours

Thursday – 12pm-7pm – last tour at 6pm

Friday & Saturday – 12pm-8pm – last tour at 7pm

Sunday – 12pm-5pm – last tour at 4pm

Pure Memphis Cocktail Hours

Thursday – 2-7pm

Friday & Saturday– 2-8pm

Sunday – 12pm-5pm
memphis zoo and aquarium
2000 Prentiss Place, Memphis, TN 38112 | Open: 9:00AM—5:00PM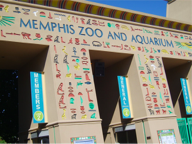 The Memphis Zoo is home to more than 4,500 animals over a 70-acre span. The Zoo has 17 Exhibits and 4 gift shops. In 2008, the Memphis Zoo was ranked America's No.1 zoo by TripAdvisor.com. In 2009, Morey Associates rated the Memphis Zoo the "top zoo in the country" in a national survey. The Memphis Zoo is an accredited member of the American Zoo and Aquarium Association.
stax museum of American soul music
926 E Mclemore Ave., Memphis, TN 38106 | Open: 10:00 AM - 5:00 PM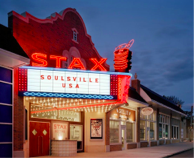 The Stax Museum of American Soul Music is a 17,000 square-foot museum offering interactive exhibits, videos, vintage musical instruments used to create the Stax sound, stage costumes, photographs, records. Artists highlighted include Isaac Hayes, Otis Redding, the Staple Singers, the Bar-Kays, Booker T. & the MGs, Johnnie Taylor, Little Milton, Sam & Dave, Eddie Floyd, Rufus and Carla Thomas, Al Green, Aretha Franklin, Ike & Tina Turner, James Brown, Ray Charles, Sam Cooke, and hundreds of others.
---
For more things to do while you are in Memphis check out Trip Advisor's list of attractions!